FCHS provides community, freedom of expression to trans students
On a frigid and windy Wednesday, you would not expect  to see students gathered around the tower in front of school. Yet there they stand, circled around  listening intently to those speaking, holding signs with gloved hands, and smiling with red faces stinging from the cold. They march around the front of the school, echoing the sentiment: Trans rights are human rights.
The Trans Day of Visibility walk-out was led by Collins' own Rainbow Road club, a collection of queer and trans students, in response to anti-queer and trans legislation being raised around the country. This includes the infamous "Don't Say Gay Bill" passed in Florida, and 70 other bills passed around the country which negatively affect trans individuals. The club saw the walkout as an opportunity to raise awareness and gather support for the trans community within the school. 
The efforts made by the club are more important than simply putting on events and holding meetings during lunch. According to the National Institute of Health, trans and other queer identifying students are less likely to experience suicidal ideation if a school even has a GSA (or gender and sexuality alliances like Rainbow Road), regardless of whether of not they attend. This displays just how crucial a GSA can be to the health of this student population, especially when considering that trans youth are more likely to be victims of violent or sexual crimes, they are more likely to experience homelessness, and are more likely to face threats at school, as reported by the Trevor Project. 
One member of that vulnerable community, Audrey Hathaway, a senior transgender woman, stood with the crowd of the walkout. Hathaway's journey embracing her identity, however, started long before this day of Trans Visibility, having come out sophomore year. She describes that time as being uncomfortable and tedious, in terms of what it meant for her as a student, having to send email after email, explaining her identity to teachers, and requesting they refer to her using the correct pronouns, until she was able to have information updated in school records through the counseling department. 
"The biggest problems I've had have been with substitute teachers because they didn't know my position," she explained. "A lot of them would ignore me telling them that my preferred name is Audrey and my preferred pronouns are she/her. They just wouldn't do it."
This frustration with teachers lacking understanding on trans and queer issues was reiterated by Vincent Yourshaw, a senior transgender man, who first came out first to his friends in the 7th grade. He described his experience in which he attempted to discuss the significance of Ernest Hemmingway's queerness to his writings, but was blown off by a teacher who did not want to reflect that part of history.
He recounted disappointedly, "I was trying to say this is why it's relevant to one of his stories, this is why he wrote about that, it's important."
In terms of coming out within FCHS, not only did Hathaway have to navigate new ground with teachers, but she had to be more cautious socially as well. 
"You have to be careful, because you don't know if people are going to be supportive, and even if they are, most people don't understand," Hathaway continued. "It's hard finding a good community that supports me through and through." 
Both students recognized the role of finding or creating a community to cope with the social challenges that come with being a transgender student. Hathaway found her place through her friends and involvement in the school theater program, and Yourshaw found his through his role as head of Rainbow Road.
Having always been searching for a place in the queer community, Yourshaw created a GSA at Kinard Middle School, in order to normalize being LGBTQ+ as a young teen. It's fundamental for Yourshaw to surround himself with peers who experience similar struggles and to maintain a connection to his identity socially. 
"It's like a little family. I can't control my gender, my sexuality, I didn't choose that," he said. "But I have chosen to be a part of that community and I think that's really important that we all found each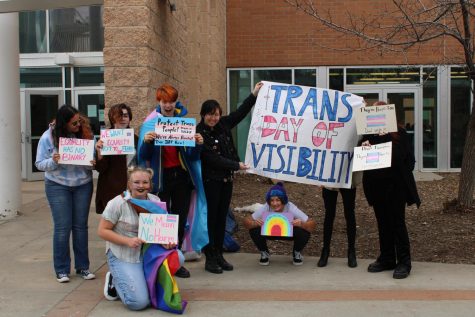 other in that way."
The heightened importance of community for LGBTQ+ students, and specifically Collins' trans student population, was echoed by Laurel Harris, sponsor of Rainbow Road, and member of the LGBTQ+ community herself, as a bisexual woman. 
"There's a weight to this identity that follows them. It is harder to focus on your academics, it makes it harder for you to form friendships with people," she said. "So there's a strength that has to come from that, and we do see that that strength becomes more difficult when you have teachers, either forgetting or purposely not using your preferred pronouns, issues with substitutes coming in and not being properly communicated about pronouns. Being out at school, but not being out at home."
Trans students discover the strength to bear that overwhelming weight through different means of self expression and reliance.
For Hathaway strength is found in the way she is able to express herself stylistically. 
"It has been a big part of my transition," she said. "Finding myself through different clothing styles, and seeing what feels comfortable." 
Yourshaw shared that he is able to become stronger with the suppo
rt of teachers who truly look out for this population within the school.
"All of them go the extra mile,  like 'what can I do to constantly be there for you?' and they don't have to do that, they're not getting paid to do that," he explained. "It's really nice to be able to rely on each other." 
Regardless of the struggles openly trans students at Collins face, they are able to celebrate the joy of being able to live as their authentic selves. 
"I used to just wear really baggy clothes, because everything felt bad. Now, even when I am misgendered, it doesn't bother me that much because before, I was constantly living in dread," Hathaway said.
As for Yourshaw, as a student highly involved in queer communities socially and academically, even going as far as devoting his two year long GT research project to the study of queer history,  he finds hope and bliss in watching others find their true selves.
"I hung out with one of my trans feminine friends and I got to show her how to put on a dress because she didn't know how to do that, and we got to go clothes shopping together," he said. "And just seeing how happy she was, I really liked seeing that."
Harris acknowledges that even as they experience the joyful truth of living authentically, the exhaustion and loneliness she and her students carry from their constant effort to protect and support each other as a community, takes a toll. 
As she reflects on what Collins as a community needs to be doing in order to better support and uplift this vulnerable population of students, Harris becomes emotional. 
"We need to hear from you," she urged. "Students and teach
ers who consider themselves allies of the trans or queer community at large need to make themselves known. People individually need to make the decision to be on the right side of history. That doesn't mean doing nothing; that is not an option anymore."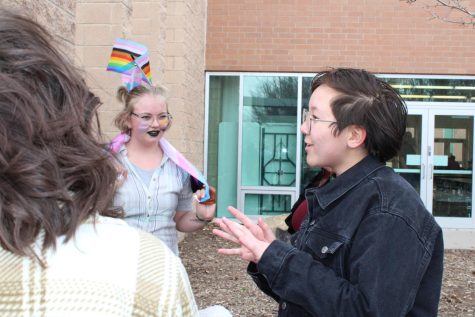 Yourshaw reinforced that allies to
 LGBTQ+ students can become a more available and helpful resource by educating themselves on queer issues and history, encouraging those who want to support.
"Keep learning about and don't forget where we all come from," he said. "Because that's why we all learn history, to not repeat past mistakes and to constantly make things better."