Lunch lady finds home in lambkin family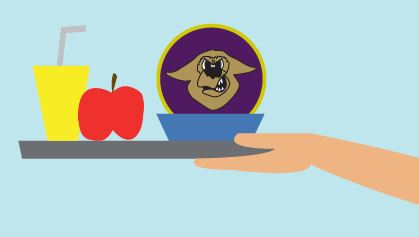 Lunch Ladies greet hundreds of students a day, armed with a smile and a plate of hot food. To withstand the oncoming wave, they must prepare for hours before the lunch rush, usually working without
Bray is a nutrition specialist who serves in the cafeteria and has found her home as a Lambkin at FCHS through interactions with students and staff.
Bray began her career working as a preschool teacher, she found a job at FCHS as a nutrition specialist after leaving her position at the preschool.
"I've always worked in education, and I knew that I still wanted to stay somehow in an education field, but I wanted to get away from what I was doing," Bray said. "So I just went on the website and found that they were actually looking for nutrition specialists over at the high school and applied."
Once hired, Bray found she loved working in the cafeteria. However, there are often struggles that come with her new position.
Bray's workday is often from 8:45 a.m.-3:00 p.m., with little time for breaks. While the cafeteria staff is permitted a short lunch break, they have room for only 20 minutes of downtime before they must start working again. Unlike students, they don't have a designated "off period."
If Bray or any other lunch staff needs to take the day off, they often have difficulty in finding a substitute.
"We do encounter those struggles when we don't have all of our staff and we can't get a sub for the day," Bray said. "But we all come together. The biggest thing is being out a person and only having three instead of four of us. We all actually work together so well that we make it the best we can."
Even outside of work hours, Bray is very involved at FCHS. She enjoys coming to football games and shows put on by the theater department with her two kids, Sydnie, who is six, and Kolbe, who is ten.
"We come because my kids really like doing extra things, especially theater," Bray said. "And then for them to actually enjoy going to those things is really cool."
The energy that goes into her work and life is vast. She's always preparing and catering to students' needs as well as her children's. Though it's difficult, Bray finds enjoyment in interacting with students and other staff members.