Senior excels in percussion
Standing on a stage, the spotlight on him, senior Matt Boyle raises his mallets and begins to play the marimba. As the four mallets hit the instrument, the notes dance through the auditorium and settle in the ears of audience members.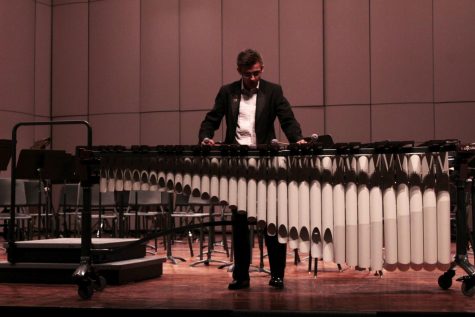 As he enters his fourth year of playing percussion and his third year in symphonic band, Boyle is pursuing an interest in percussion that started in his freshman year and grew. His current practice  ranges from rhythmic to expressive.
The snare drum is one of his favorites, and is a prime example in rhythmic percussion.
"The rhythm of the snare drum is pretty cool and usually grooves pretty well and it's fun to play," Boyle said.
Although he enjoys playing the snare drum and other more percussive instruments, his focus is the marimba due to its dramatic range.
"The marimba—it's really like melodic instruments, pretty similar to playing piano or something like that. It's a very expressive instrument," Boyle said.
In order to play more music that has expressive elements, Boyle spends many hours working on his technique, refining it, and refining his études, difficult pieces of music used for auditions and other audition material. He practices often to perform to the best of his ability.
Boyle's practice time starts early in the morning.
"I wake up at 6 and I'll start playing right around 6:30-6:45 and I'll play a 12 minute warm up every day, just throw some music on and play along with the music as a 12 minute warm up, and then that's the one time I really warm up for the day and just work on some fundamental skills," Boyle said. "And then, it usually just depends on the performance but usually I'll like cut out certain time periods throughout the day—like an hour here an hour there two or three hours in one spot."
With his dedication to practicing, he learned many methods throughout his rehearsals with teachers and on his own. One of the skills he acquired is the four-mount marimba. This craft involves holding two mallets in each hand and playing with four mallets on different pitches. This is Boyle's main focus.
"It just naturally came to me," he said. "It's more fun to practice marimba because you have to hit and it's like a little quick snare drum can be more melodic it's not like a true solo instrument, but it's just something I was really interested in practicing when I first got started. So, I just practiced it a lot more than everything else."
Boyle plans to utilize his ability of four-mount marimba during his college auditions, which will allow him to pursue his interest in percussion in the future. Part of preparing for a college audition is the pieces that are played, and what showcases the best abilities.
"It's all about finding a good fit," Boyle explained. "You know everyone's gonna be playing at a really high level. Obviously I've never done this before but you'll just kind of know when you find the right fit. Right now four-mount marimba playing is a bigger strength of mine so I picked a technically-challenging piece. And then the snare drum—I always pick a piece that is gonna push me a little bit, but I'm always gonna be able to play like a super-high level when time comes to."
Boyle's abilities have taken him to many places, such as camps for percussion, like the Interlochen Arts Camp in Michigan. What he has learned from these camps has impacted his motivation within percussion.
"Interlochen was a very humbling experience," Boyle said. "Everyone is just very good and it motivates you to practice. The difference between that and high school is that everyone there, they just want to be the best that they can be. Everyone just kinda pushes each other to get better which I thought was really cool."
His experiences at camps like Interlochen inspired him to keep percussion as a part of his future.
"I just think that I started it and I was like 'Dang I'm like pretty good at this,' and I really liked it and I found some success through it," Boyle said. "Through a couple of different things—like, I was the principal progression for the Music for All National Honor band my sophomore year and then I kept making all these things. I was like, 'Oh dang I really like this,' and it's fun. I'm good at it and I just kept going and I spent hours and hours doing it and I think this is what I'm going to pursue as a career."